The Project
SOLO 4 is the culminating achievement of SOLO District, a landmark community of four mixed-use towers in one of the most vibrant and inspiring neighbourhoods in Metro Vancouver. Ideally situated across the street from the Amazing Brentwood and only steps from SOLO District's extensive onsite retail opportunities, SOLO 4 effortlessly brings together elevated living and urban dynamism.
With its stunning one, two, and three-bedroom condos, SOLO 4 represents the final phase of an ambitious undertaking, envisioned by Appia and brought to life by our talented team over a decade.
Details
Sales Launched:

2021

Type:

Residential

Size:

52 Storeys, 318 Condos

Developer:

Appia Development
The Vision
Our priority was to maximize revenue for our client while meeting our high sales target in an incredibly short period of time. As the crown jewel of the four-tower SOLO District development, SOLO 4 deserved an ambitious marketing and sales strategy. Our goal was to elevate this final tower and conclude the SOLO District project on a particularly high note.
The Results
The results were impressive: in the first three weeks of launching, 95% of the units were sold, achieving revenue that was higher than originally presented to the client.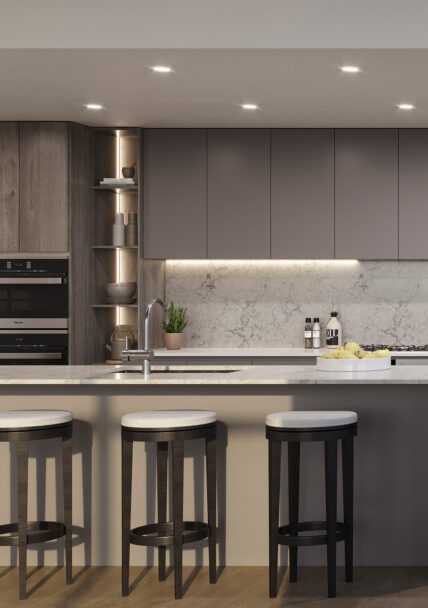 All in the Details
We played an integral role in determining the suite design, focusing on everything from the layout to the smallest details. We brought in high-value, high-quality fixtures and finishes, from imported Inform custom closets with sophisticated smoked glass mirrors to sleek kitchen islands. While meeting the client's desire for spacious, highly liveable homes, we maximized the efficiency of each suite and achieved the perfect balance of beauty and function.
A Stunning Display
While the first three SOLO towers were sold out of the same presentation centre, with this final tower we wanted to go bigger and bolder. In one of the retail units of SOLO 3, we created a brand-new presentation centre, equipped with two full display suites, interactive screens, and an impressively large-scale four-tower project model.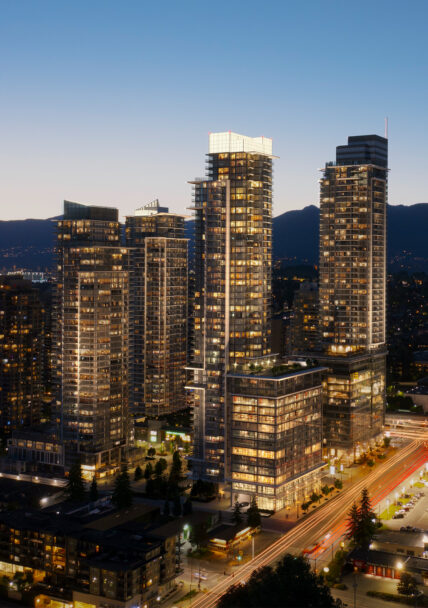 Building Momentum
From the beginning, interest in SOLO 4 was high, with over 2000 people registering to preview the presentation centre. COVID-19 protocols presented a creative challenge: how could we generate excitement without the physical elements of a line-up and bustling crowds? By implementing virtual line-ups, we created a sense of urgency for those wanting to gain access and made their eventual entry into the presentation centre all the more rewarding.
Engaging Audiences
We also embraced every digital marketing opportunity, creating collateral that could be easily accessed and shared online as well as an exclusive realtor portal, which included a full suite of images, digital brochures, video, and templates for social media.