The Project
Located in the walkable urban community of Central Lonsdale, Millennium Central Lonsdale enjoys views of the beautiful Downtown Vancouver skyline and the blue expanse of the Pacific. The building features luxurious interior designs by Chris Dikeakos Architecture and over 15,000 square feet of impeccably designed amenities, including a fully equipped fitness centre, an outdoor kitchen, a luxurious social lounge, and an entertainment pavilion.
Details
Sales Launched:

2021

Type:

Residential

Size:

18 Storeys, 162 Homes

Developer:

Millennium Development Group
The Vision
The first of its kind in the neighbourhood, Millennium Central Lonsdale is a high-end offering with a host of exciting and innovative elements. For this project, featuring one, two, and three-bedroom condos and townhomes, we focused on creating a premium product that would redefine sophisticated living on the North Shore.
The Results
As Central Lonsdale's first true luxury tower, this project set the bar for prestigious residences in North Vancouver.

Millennium Central Lonsdale achieved the highest price per square foot in the area.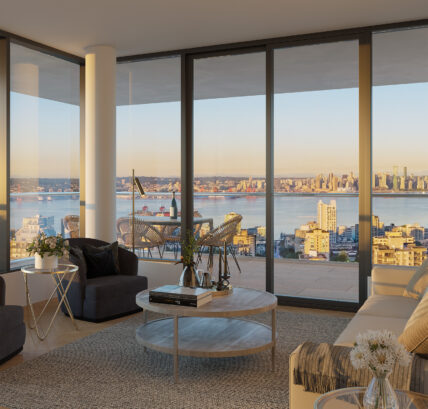 Smart and Sophisticated
We helped shape Millennium Central Lonsdale's product design, with the goal of creating residences graced with the most luxurious finishes Central Lonsdale has ever seen. Forward-thinking Home Automation features include a smart home touchscreen to control lighting, smart toilets, heating and cooling, a Nest Learning Thermostat, and a keyless entry smart lock. Residents also enjoy over 15,000 square feet of hotel-style private amenities, such as a heated outdoor infinity pool, a spa, and indoor and outdoor lounges.
A Luxurious Experience
Our presentation centre was opulently designed by Curve Interiors to showcase true luxury in Central Lonsdale. With large format tiled floors, detailed millwork from the reception desk to the model table, and floating ceiling treatments with a custom smokey mirror that show the upper levels of the building, the centre was the epitome of sophisticated living.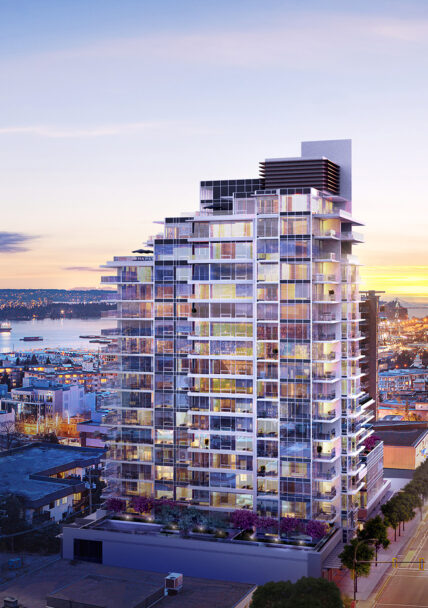 Excellence in Marketing
We designed extravagant hoarding to demonstrate the level of luxury coming to Central Lonsdale, using 3D lettering and LED strip lighting to help it stand out, day and night. Large-format renderings and neon pink accents helped guide prospective buyers to the presentation centre.
The Project in Print
Prospective buyers were given eye-catching neon pink and green branded boxes, each with a large-scale brochure inside. Using compelling storytelling and stunning visuals, the brochures communicated Millennium Central Lonsdale's appeal—timeless sophistication in a chic offering.