The Project
Combining stunning views, flexible spaces, and next-level lifestyle amenities in an iconic, vertical form, 320 Granville by Bosa Development is downtown Vancouver's latest AAA-office tower offering a unique workplace experience. From the expansive triple-height lobby to the open floorplates designed around a central core, 320 Granville by Bosa Development allows businesses to tailor spaces to meet their unique needs.
Details
Sales Launched:

2017

Type:

Commercial

Size:

30 Storeys, 355,000 Sq. Ft.

Developer:

Bosa Development
The Vision
Against a backdrop of skepticism in the commercial real estate world, Bosa Development's revenue aspirations for 320 Granville by Bosa Development were high. In order to bring both end-users and investors to the table, we took inspiration from the growing global popularity of "tech campuses" to reimagine how small and medium businesses could achieve this aspirational opportunity.
The Results
Sold 150,000 sf. ft. of strata office.

Sold over $316 million in a weekend.

Achieved $2,189/sq. ft., exceeding the developer's expectations.

Sold to 40% owner-users and to 60% investors.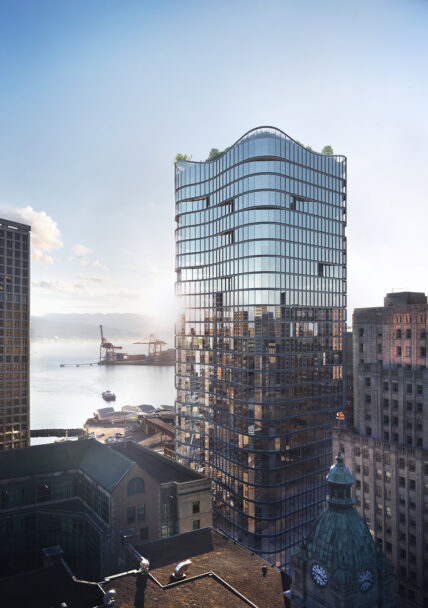 A Trophy Property
To create a world-class amenity that would welcome and support large and medium-sized businesses alike, we took inspiration from the concept of the vertical campus. We bought this once-in-a-lifetime opportunity to life with a comprehensive suite of renderings and brand film, successfully bringing investors, commercial owners, and residential investors to the table.
An Immersive Presentation Centre
In order to maintain a disciplined marketing budget, and given the extremely tight retail conditions in Downtown Vancouver at the time, we approached the sales gallery with the intention of being small but mighty. We leveraged the intimacy of the space to our benefit, creating a high-touch, high-impact presentation centre that exemplified the luxury and quality buyers could expect from this trophy asset. From stone walls to curved millwork features, the presentation centre became a point of departure where prospective buyers were transported to their future.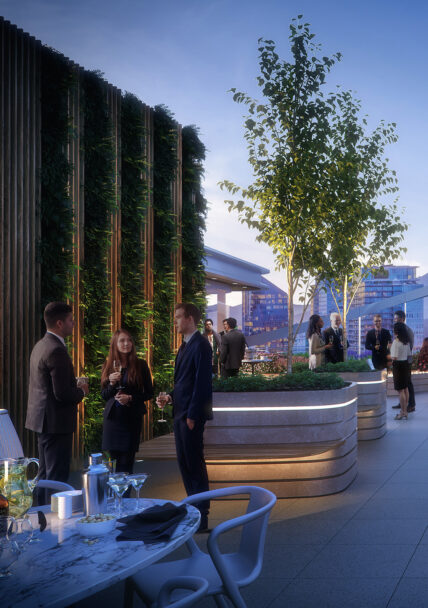 A Vertical Campus
Strata office remains more novel in Vancouver, and in order to capture the imagination and attention of prospective buyers, we knew we had to find a way to bridge the gap between residential and commercial real estate. To that end, we approached product design in a whole new way, taking inspiration from residential offerings while embracing a commercial mindset. That meant translating lifestyle amenities typically found in condos to a meaningful application for commercial owners. From envisioning a vertical campus to recommending an on-demand IT concierge to service small business buyers, the product design was extensive and purposeful.